"Singers, Superheroes, And Songs On The Radio" has concluded its journey through the 1960s as I remember them. The series will return in the near future, following me in The Me Decade from the fall of 1970 through...well, whenever I decide to stop, I guess! But before we leave the '60s behind, I offer this gallery of images I remember from that time period, from my earliest memories in 1963 through the summer before middle school in 1970.
(And, through eight posts [plus this image gallery] covering my memories of the '60s, I
still
never got around to mentioning Beanie & Cecil,
Jonny Quest, Chickenman
,
"Terry" by Twinkle (on Tollie Records), cub scouts,
Super 6
,
Secret Six,
Secret Squirrel and Morocco Mole, Zsa Zsa Gabor, The Four Seasons, trying (and failing!) to learn to play coronet, "Teen Queen Of The Week" by Freddy Cannon (on Swan Records),
To Tell The Truth
,
Monster Movie Matinee
, bowling alleys, hamburgers and milkshakes at Carrolls,
Road Runner
, The Singing Nun,
The Flying Nun
, my dog Bear, the jukebox at The Moose Club, Suburban Park, Rocky and Bullwinkle, "Ring Of Smoke" by Ben Colder (on MGM Records), the mumps, fistfights, my sister's appearance with Miss Lorraine's dance students on
Romper Room
, tales of What-A-Jolly Street in
365 Bedtime Stories
by Nan Gilbert, Spirograph, Operation, Twister, Stratego, Motorific racing cars, the North Syracuse Public Library, Quisp and Quake, Jan and Dean's "Little Old Lady From Pasadena," my cherished
Batman
Signet paperback, my brief kindergarten romance with a girl named Susette,
The Sword In The Stone
, Deborah Walley,
Where Monsters Dwell
,
the original Broadway cast LP of Carnival, Julie Sommars
,
Krypto and the Space Canine Patrol Agents
,
Mr. Magoo's Christmas Carol
, and
Beatles VI.
Decades are large; they contain multitudes. That was certainly true of my 1960s.)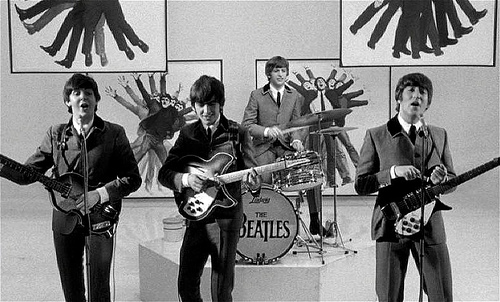 WHEN WE RETURN: See you in the '70s!